PH Interview: Lotus CEO Dany Bahar (Geneva)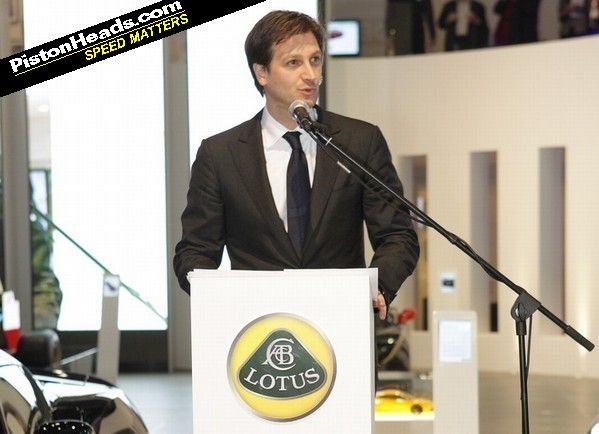 PistonHeads: A few months ago you surprised everyone by showing five cars at once. Why make such a bold move and launch all the cars in one hit?
Dany Bahar: We wanted to show the world, the media, potential customers and the industry where Lotus is heading in the coming decade, and that's somewhere far different from where it was. We thought that by just putting there an Esprit, or one Elise, or one city car would not capture the whole concept of the rebirth of Lotus.
We wanted to show customers the whole product line-up, to show that this was not just us going crazy. There will always be products for our current customers but we will extend the product range into what the company used to do in the '70s and '80s.
Before Paris, when we showed the cars, Lotus was not in a good position with suppliers. The volumes were too low, the financing was not in place and we never had the chance to work with companies such as Bosch, Magnetti Marelli or Getrag. Now, the suppliers are actually chasing us to be partners.
PH: Are you lining up more surprises over the next five years, or are you concerned that maybe you've given it all away?
DB: There is much more to come. The products that will come out in 2013, like the Esprit, will not change dramatically from what we showed, but the cars that are further down the road might undergo some changes, so there might be some surprises there. And we should not forget the current line-up (Elise, Exige, Evora). There will be exciting derivatives of those three cars coming up in the next three years.
PH: Is there a common platform strategy for the new cars?
DB
:I don't think that a small company like us would be able to finance these five cars if there wasn't a commonality to the platforms. This is the biggest misunderstanding in the public's view. We are not developing five cars. We are developing two cars, and all the five cars are just different derivatives. We will achieve more than 50 per cent of commonality across all the platforms, more than any other sports car has in fact achieved. And why are we able to do that? Because the cars have started from scratch. We have done everything with the objective to share all the components throughout those five cars, and that in engineering terms is really just developing two cars. And I think even companies like Lotus should be able to do that.
PH
: The two cars you refer to, are they a front-engined configuration (Elite and Eterne) and a mid-engined one?
DB: Yes.
PH: What are the key technical elements of that platform-sharing strategy?
DB: The key is the main basic architecture. It is not just two platforms (front-engined and mid-engined), it is only one basic car, modified to give an engine in the front or in the rear. Other than that, the base elements of the sharing strategy, the engine, gearbox, suspension, braking, HVAC (Heating, Ventilating, and Air Conditioning), electronics, - in other words all the big elements - are shared throughout the cars.
PH: Will the cars use aluminium, for which Lotus is famous, or composites materials?
DB
: It depends on which car you talk about. We will develop the composite we have today, but as we go up the range we will have an aluminium body, but with carbon fibre panels as well. Basically, the higher you go up the price range, the more exotic materials we will incorporate.
PH: The world is moving towards lightweight, frugal cars with innovative technology - Lotus's traditional heartland. Are you concerned that you're moving away by going into bigger, heavier cars with larger engines?
DB: Not at all. I think we should differentiate a mass-market product from the sports car market's offerings. You might see a V12 become a V8, but that is still a big engine compared with mass-market cars.
The reason for buying a sports car is passion, emotion, a love for driving. It's not about how much emissions a Ferrari or a McLaren will actually deliver. If you buy a sports car purely because of economical or environmental reasons then something is wrong.
So, it is a sort of contradiction, but what we try to do with our strategy is keep the core DNA of lotus - low weight. That means being lighter than any other competitor, and I think we have shown already with the current products that we produce high-performing engines with low emissions. The Evora is under 200g/km CO2, or 220g/km with the Evora S, whereas our competitors are at 270-280g/km.
So we have two benchmarks to achieve, which is to be lighter than any other and to be more economical than the others, but a sports car is still a sports car. You want to hear the sound, you want to feel the engine, you want to feel the driving. For those things we are the benchmark anyway in the sports car industry; we just have to be better on the more emotional side. Which we are not good at.
PH: Will you be moving more into the luxury sector, and how do you see the brand moving away from pure lightness, and how will you balance the inevitable weight compromises in the search for greater refinement?
DB: Again I think there is a misunderstanding. What does lightness mean? If you think Lotus is just about the Elise, which unfortunately is the only car that we've produced in the past 15 years, therefore people think that is it. But what about the past 45 years? There were many cars, like Esprit, Eclat, Elite that were all 1400kg or more. There was a V8 Esprit. I admit that these were not very successful commercially, but that doesn't mean that the strategy was wrong. I think what we want to do is keep the light weight approach, but always be 100-200kg lighter than any other competitor. This is what we mean by lightweight.
If you go back 10 years, most cars were made out of steel. Then somebody came up with an aluminium chassis and it was easy to be lighter. Today most sports cars are aluminium anyway, so you can't say 'I'm going to be 300kg lighter than him'. Especially with the current cost pressure you have to develop the cars. So I think we just have to be more clever, by applying more smart engineering, and do it maybe more simply, as we did in the past.
Our cars will never be high-tech products; we will always try to keep things light and simple, but we can simply not survive, with just the Elise. The Evora, which we made before I joined the company, already showed the ambition of the company to move outside its enthusiasts-only comfort zone, which is fun, but doesn't deliver you enough volumes to sustain the company. I don't think there is anything to say we cannot bring the next Esprit to market. The Esprit was already a bigger car than the Elise 15 years ago, 20 years ago, and although commercially maybe it was not the best success, it was definitely in terms of image the car that best promoted the Lotus brand outside of niche circles. I think that deserves to be a premium car, deserves to be fighting with Porsches and Ferraris and, of course, if you are fighting them you have to have some of the luxury features that type of customer expects. It's a different type of person to the Elise customer.
PH: Which competitor would like to gain customers from for each of your new cars?
DB: There isn't in particular one competitor; we have segments that we would like to aim for, but our general approach is always to meet the performance of the best in class of the segment, but at a price that's 20-30 per cent lower. That's the general rule of thumb in everything we do. Best in class for performance, and then we have to be able to deliver it at a lower cost.
[Source]
--