The Eureka Moment...
Well, it's been a difficult journey deciding what I was going to order. I was all set on Midnight/natural brown with all the leather goodies - very nice, but not the iris blue I really wanted. I finally came to the realization that although it would be great to have the headliner, dome cover, and visors in matching natural brown leather (instead of the standard black) it wasn't worth the $2K plus cost. I've been trying to see if I would notice it in my current car and it seems I'm not really looking up there all that much. So, if porsche feels black works for the headliner, dome cover and visors with the natural brown it's good enough for me.
I also had to reconsider the PCM in leather - it looks incredible. But could I live without it? Yes, I'm sure I can. So, the interior would look something like this (with the steering column in leather also)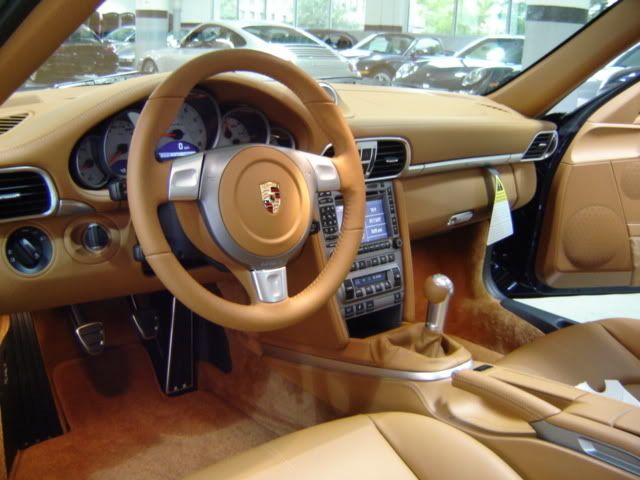 Illuminated door sills - nice, but not a necessity - saved a few hundred on that. Deleted the instrument surround in leather and the Leather package A pillar and I was sitting right on what I had budgeted for the car. The 2008 base price increase did some damage to my configuration, but all in all I think I'm going to be happier with the final result.
The last piece of the puzzle is the tiptronic. I still haven't had the chance to drive one. Being that my dealer only has customer ordered cars I think I'll be relying on blind faith with this one. I do have reservations being that the PDK is coming soon in terms of trade in value on the tip. I enjoy the driver interaction with the 6 speed, but still have to consider the primary use of the car as a long distance tourer in making my decision. This is not going to be a car I'll trade back in two or three years (at least that's what I say now). My wife and I are planning to have a baby sometime next year (planning now, only - nothing happening yet) and I know shes not going to put an infant in the car anytime soon. So I have time to think about the tip vs. the manual for a while.
The dealer had two allocation slots for '08 coupes - one in Nov '07 and one in April '08. I have the nov slot but pushed it to April, as we're working on opeing another office and the extra funds would help out until then. So this is where we're at:
61 - Iris Blue Metallic
06 Natural Leather Brown
998 Leather Interior Natural Lthr
249 - Tiptronic S
342 Heated Front Seats
640 Sport Chrono Package Turbo
810 Floor Mats - Interior Color
XSC Porsche Crest in Headrest
XPA Thicker Leather Steering Wheel
XMZ Rear Center Console - Leather
XNS Steering Column in Leather
XTV Door Finishers in Leather
CFA leather tiptronic shift gate
CUV Storage Cmpt Lid W/Model Logo
CNE - Front Spoiler Painted
CNG - Rear Lower Valence Painted
XAJ - Side skirts painted
For those who've never seen iris blue, or perhaps forgot what it looks like, here are a few photos. It's an incredibly complex blue - somewhere between midnight and cobalt and it has both a pearl and metallic component. It also changes drastically with the direction of light - my all time favorite blue that Porsche has used.