May 23, 2012 9:16:07 PM
Rennteam Master
Loc: UK , United Kingdom
Registered on: Feb 23, 2005
Reply to: Boxster Coupe GTS
Re: Chris Harris joins PistonHeads and launches DRIVE on YouTube...
Chris Harris On Cars: "1986 BMW M5 E28: The original super 4-door"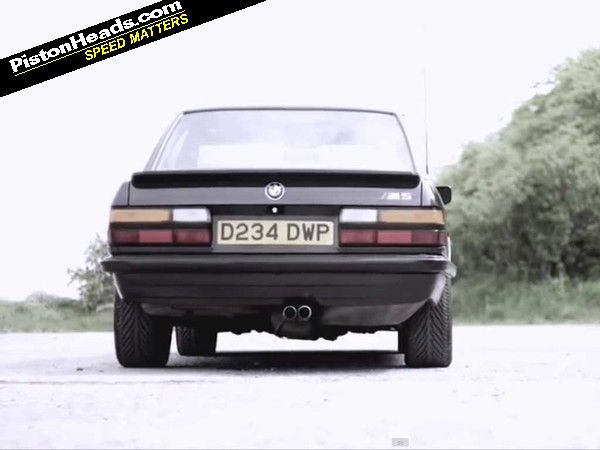 Well, I promised myself I'd get the old soldier going, and here it is!
What is it about this motor car that I find more compelling by the day? The set-square styling, the sensible dimensions, the noise of that straight-six? All of them I suppose.
It was an ECU problem that stopped it, erm, starting, but Mr Klinkert from Tintern Garages pulled the ancient control box apart, repaired the circuit board where it had dried out, fixed the fuel pump and then it rasped into life. Some drop-link bushes saw it through the MOT.
Driving this 26 year-old car highlights the very best and worst of current fast-car-characteristics. Most of it is plain obvious stuff like grip, braking performance and refinement. But the main subjective difference is the way this car makes you extract the speed on offer; modern performance cars with their vast torque offer so much more on-demand performance. If you want to just bolt past a dawdling car, it just happens. In the M5 you have to anticipate.
Once you get the E28 up on its toes, it still feels genuinely quick, but you have to rev the engine, manage the gaps between those five gear ratios and sometimes, just sometimes, allow a bit of slip to maintain engine speed. It's a real pleasure, but in modern cross-country terms, it isn't especially efficient.
Anyhow, as I mentioned in the video, 2012 marks 40 years of BMW M, and even though I can't cover every model, please advise as to which one you'd like to seen next.
"1986 BMW M5 E28: The original super 4-door -- CHRIS HARRIS ON CARS"
"I haven't driven my M5 for years, so I got it road-ready and took it for a drive. It still feels nuts today - what the hell was it like in 1986?..." -- Chris Harris