Nov 14, 2017 3:59:03 PM
Rennteam Master
Loc: UK , United Kingdom
Registered on: Feb 23, 2005
Reply to: SciFrog
Re: Donor vehicle for Singer Vehicle Design
SINGER VEHICLE DESIGN ANNOUNCES DETAILS OF CLIENT-COMMISSIONED 'DYNAMICS AND LIGHTWEIGHTING STUDY' UNDERTAKEN WITH WILLIAMS ADVANCED ENGINEERING AND OTHER PARTNERS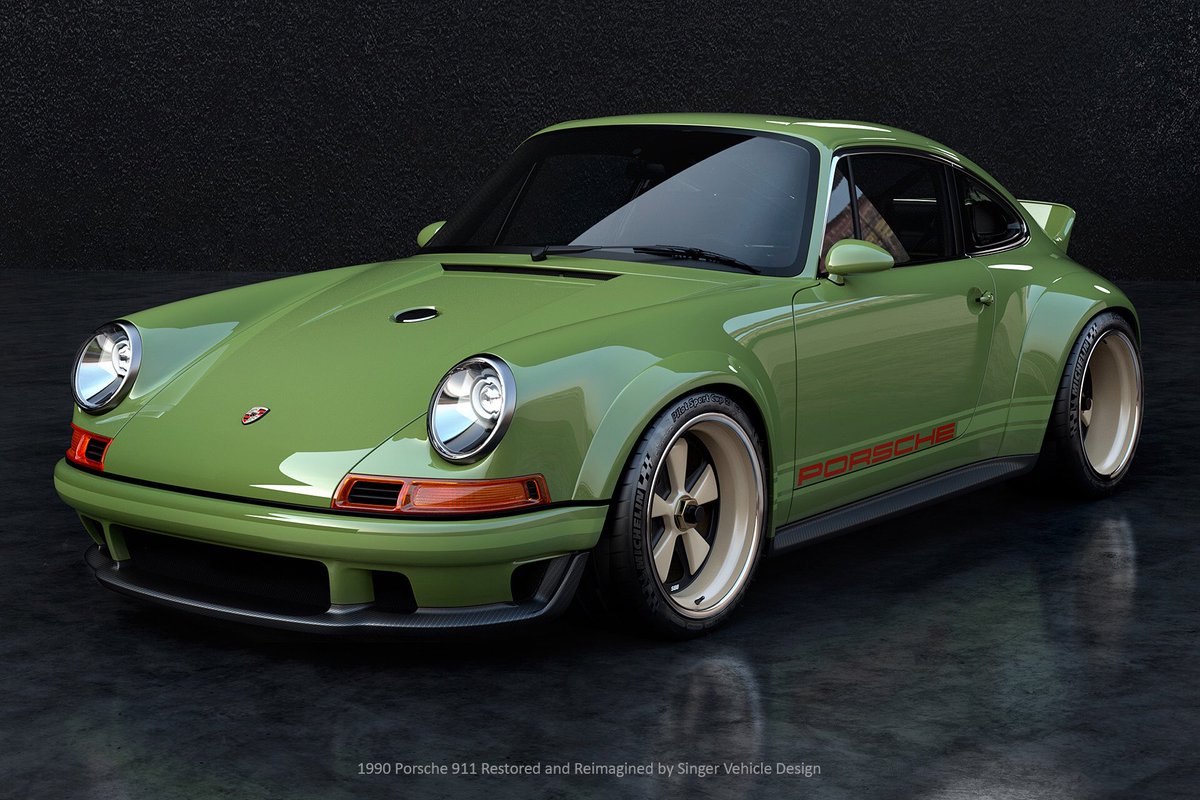 A Relentless Pursuit of Excellence through a Lightweight Philosophy
Access to the results of the study, referred to as "DLS," will be available to no more than 75 enthusiasts beginning November 14th
These commissions will be undertaken in the UK at a new Singer facility on the Williams campus in Grove, Oxfordshire

LOS ANGELES, November 14, 2017
Origins: As announced in August 2017, Singer client, and Porsche enthusiast Scott Blattner, requested lightweighting and high-performance enhancements for his 1990 Porsche 964. To meet the goals defined in collaboration with Scott, Singer undertook a Dynamics and Lightweighting Study "DLS" with Williams Advanced Engineering – part of the Williams Grand Prix Engineering Group. As a result, Singer engaged Williams and a formation of technical partners to engineer a selection of restoration and modification services strongly oriented toward lightweighting and dynamic gains.
Singer clients and renowned Porsche collectors, Jan Koum and Mark Evenstad joined the initiative, offering their support and interest in enhancing their Porsche 964s with motorsport inspired material science and technology.
Scott explained:
"The guys at Singer have always been receptive to the question "What if?" So, the question became…what if Singer worked on restoring and modifying my beloved 27-year old Porsche 964, with the assistance of an engineering concern born from the world of F1. How would such a car look and how would it perform?"
Result
The result is a new selection of restoration and modification services, known as DLS [Dynamics and Lightweighting Study] - collaboratively developed by Singer, Williams Advanced Engineering and a collection of world-renowned specialists such as Michelin, Brembo, and BBS Motorsport.
Porsche legends Norbert Singer, and Hans Mezger participated as special consultants bringing years of wisdom and guidance in the areas of aerodynamics and engine development.
Racing driver Marino Franchitti together with automotive authority and journalist Chris Harris are serving as consultants and vehicle dynamics development drivers, working in close collaboration with Williams Advanced Engineering's dedicated vehicle development team.
Details of the first machine, owned and commissioned by Scott Blattner, incorporating the Dynamics and Lightweighting Study are now being revealed. The car is presented in Absinthe – a color unique to the study – with interior leather in Blood Orange.
Study Details
Through intense study and component development for the 964 platform, advances in the following areas have been commissioned by Singer's clients and achieved in collaboration with Williams Advanced Engineering:
A Porsche four-valve, four-camshaft, naturally aspirated, 500HP air-cooled flat-six engine developed by Williams Advanced Engineering with consultation by Hans Mezger.
Underbody and surface aero performance optimized through CFD analysis, by Williams Advanced Engineering, with consultation by Norbert Singer.
Improved suspension philosophy including light-weighting, enhanced geometry and improved adjustability
Further weight reduction methods and use of magnesium, titanium, carbon fibre and other advanced materials contributing to a minimum vehicle weight of 990kg / 2180Ib.
Additional advances have been achieved for the commissioning owners through unique and exclusive content, in concert with technical partners including:
Michelin - Bespoke Pilot Sport Cup 2 tires
BBS Motorsport - Lightweight 18" forged magnesium, monobloc, centre-lock wheels
Brembo - Lightweight, monobloc calipers and carbon composite rotors [CCMR] braking
Hewland - Magnesium, lightweight 6-speed transmission
EXE-TC - Bespoke damping

Singer Vehicle Design Founder and Creative Director Rob Dickinson said:
"On a technical level, the study has been fascinating and has resulted in an incredible restoration with the benefit of top drawer resources and modern science. Artistically it has been a second chance to connect with the machine on a new level.
"Aesthetically, I've been working closely with friend and creative sparring partner Daniel Simon and a great team here in California to present ideas that work functionally as well as emotionally for our clients."
The results of this two-year study and development effort represent a relentless pursuit of excellence through a lightweight and artistic philosophy and attempt to celebrate an era of lightweight, air-cooled Porsche 911s that targeted ultimate performance on road and track.
Chris Harris, who has driven every fast road car on the planet and pretty much every significant Porsche, said: "I'm not an engineer by trade, but just look at the list of clever people around me and you'll see that's no great problem. I'm here for two reasons: to help define how the car drives, how it feels - how it will interact with each of the lucky owners. And to document the entire process from start to finish. Rob, Maz and the team are visionaries in this space, and this is a once-in-a-lifetime project. Just thinking about the finished machine makes me grin."
Commissioning and Cost
The Dynamics and Lightweighting Study has been presented to Singer's current client base and the first commissions that have already been taken are commencing in due course.
Costing of these restorations has been dependent on the client's wishes and further details can be discussed with Singer.
As is normal practice, Singer will work closely and collaboratively with each owner to accommodate their unique vision for their lightweight machine – whether it be stripped bare for dynamic savagery, dressed for intercontinental touring or pitched somewhere between those extremes.
The restoration and modification of these client owned cars will take place in the U.K. at a dedicated Singer facility housed on the Williams campus at Grove in Oxfordshire - to be known as Singer at Grove.
Craig Wilson, Managing Director of Williams Advanced Engineering, noted: "Being able to work with the classic Porsche 964, applying our expertise in aerodynamics, advanced lightweight materials and vehicle dynamics to optimise performance has been a tremendous opportunity. We are delighted that the restoration of these cars for Singer's clients will take place here in Oxfordshire."
Background and Client Perspectives
Mazen Fawaz, Managing Director, explained: "As is often the case at Singer Vehicle Design, we picked up the phone to companies whose reputation precedes them and explained the challenge. The response has been overwhelmingly positive. We found a group of petrolheads, full of enthusiasm to help us with state-of-the-art design and materials. This restoration showcases some truly incredible engineering from around the world."
Marino Franchitti, whose extensive history of race wins includes the 12 Hours of Sebring, in addition to thousands of miles in both road and racing 911s of several generations, said:
"To be part of this effort with the resources and partners we have is the stuff of dreams, especially for an air-cooled fan like me. Everyone is working so hard to bring that Singer magic to these restorations and what I've seen and experienced behind the wheel has me very excited."
Scott Blattner noted further: The results as applied to my car are extraordinary and we felt compelled to share with other enthusiasts exactly what this company is capable of when given the funds and the partners to excel at the highest level - we are all excited to be part of what we hope is a strong group of believers in this effort."
Mark Evenstad provided further perspective, saying: "As an insatiable driver and reluctant collector, my cars get driven hard, daily. As a massive fan of Singer through my previous restoration I still had appetite for more. A big part of the Singer magic for me has always been their ability to listen, understand the experience I'm chasing from my cars and then go push the boundaries for me. This was an incredible opportunity to bring race-bred expertise and an incredible group of automotive luminaries together in order to rise to a challenge. It's hugely exciting to share these first details of a restoration and invite a small group of others to join us."
And Jan Koum noted: "Scott, Mark and I have each commissioned restorations from Singer Vehicle Design in the past. Pursuing further advances in light-weighting and dynamic response for our Porsche 964s is a logical next step for me."
Rob Dickinson said: "We thank Scott, Jan and Mark for giving us an amazing opportunity to further honour the car we love. We have listened to three of our most valued clients and endeavoured to satisfy their requests for more performance. Through a long and herculean effort, we've come up with a combination of services to showcase both bewitching individual componentry and a viscerally compelling driving experience. It also proves – if any proof were needed - the enduring relevance and genius of Porsche's evergreen air-cooled 911 in the 21st century."
In closing remarks Dickinson revealed: "I think we've all been aware of history looking over our shoulder during this time, especially consulting with Messrs Mezger and Singer. It's felt at times like a monumental responsibility to our clients as we have pushed the boundaries of this air-cooled icon in a manner that may never be repeated. Noble material science bestowed upon a legend - long live the Porsche 911."
About Singer Vehicle Design
Singer Vehicle Design (Singer) restores and reimagines 1989 to 1994 Porsche 911s for its clients. Singer does not manufacture or sell automobiles.
Singer is not sponsored, associated, approved, endorsed nor, in any way, affiliated with Porsche Cars North America, Inc., or Dr. Ing. h.c.F. Porsche, AG. The Porsche® name and crest and 911® are trademarks of Dr. Ing. h.c.F. Porsche AG, and any other products mentioned are the trademarks of their respective holders. Any mention of trademarked names or other marks is for purpose of reference only.
The product of Singer's painstaking effort is a Porsche 911 restored and reimagined by Singer. Out of respect for Porsche, and to respect Porsche's trademark rights, this incredible machine should never under any circumstances be referred to or described as a "Singer," "Singer 911," "Singer Porsche 911" or a "Porsche Singer 911," or in any other manner that suggests that it is anything but a Porsche 911.
About Williams Advanced Engineering
Williams Advanced Engineering is the division of the Williams Group that harnesses Formula One derived technology and know-how to deliver highly innovative products and services to the motorsport, automotive, defence and healthcare sectors. Working in close collaboration with its customers, Williams Advanced Engineering helps meet the sustainability challenges of the 21st century and improve performance, with its expertise in aerodynamics and thermodynamics, electrification, advanced lightweight materials and vehicle integration.
# # #