New White Aston V12 Vantage with red/black lightweight seats
I had been debating long and hard recently over what to change my Meteorite Silver 2010 V12V for next year (when it became 3yrs old) as it is so close to perfect to me that I was genuinely struggling to think of anything else I wanted next. As production is now all but over the prospect of getting a new one next year was pretty much out of the window as I would not be prepared to pay RRP for one of the "spec to order" cars, which is pretty much how all the cars >1000 are going to be or so I understand. The closest I was getting to being enthusiastic about another car was a new 991 C2S, in white with Aerokit but even that wasn't really lighting my fire as much as I hoped.

Anyway as a regular poster to an active Aston forum I saw mention about 4 weeks ago of a Morning Frost (pearl white) V12V with lightweight bucket seats in black with red inserts unregistered at my local dealer who is less than 5mins away!

Ever since I saw Mike S's Morning Frost V12 Vantage posted on this forum I was smitten and 2 years ago when I bought my first V12 Vantage I purchased a Meterotie Silver car which I got a great deal on and I have been very happy owner/driver since. However when I heard of this unregisted Morning Frost V12 Vantage sitting in my local dealer I knew this was my dream spec car and the idea of changing 10 mths early clicked into place. I did however have a couple of other really critical spec items to me beyond the colour and buckets seats and so the temptation to go have a look and check out the spec was too great for me and the next day I was in the showroom at 9:15am.

Much to my total surprise and delight the car had absolutely all my critical spec items and looked drop dead gorgeous too! I really couldn't believe it and so I had to enquire about a theoretical cost to change. The initial figure was as usual a little off the mark but not that far off that a deal couldnt be done, and so by Monday morning the dealer had put together a revised and most agreeable cost to change and I smashed open the piggy bank and purchased the car! My most impulsive car purchase ever, but 3 weeks on I have zero regrets and the last V12 Vantage has actually proven to be the slowest depreciating car in both absolute cash and % value terms that I have owned for the last 8 years!


Here are a few pics from my collection day 3 weeks ago, which was a very memorable day despite the terrible weather. I still cant get over how beautiful it is and it certainly draws a huge amount of attention from everyone, far more than the dark silver car did but I think that is down to the fact the Carbon Fibre contrasts with the white, whereas it pretty much vanished into the dark silver. This makes the specialness of the V12 Vantage really stand out and turns lots of heads. Its all good attention I should add!

Anyway, onto the pics...

Morning Frost looking pristine in the showroom :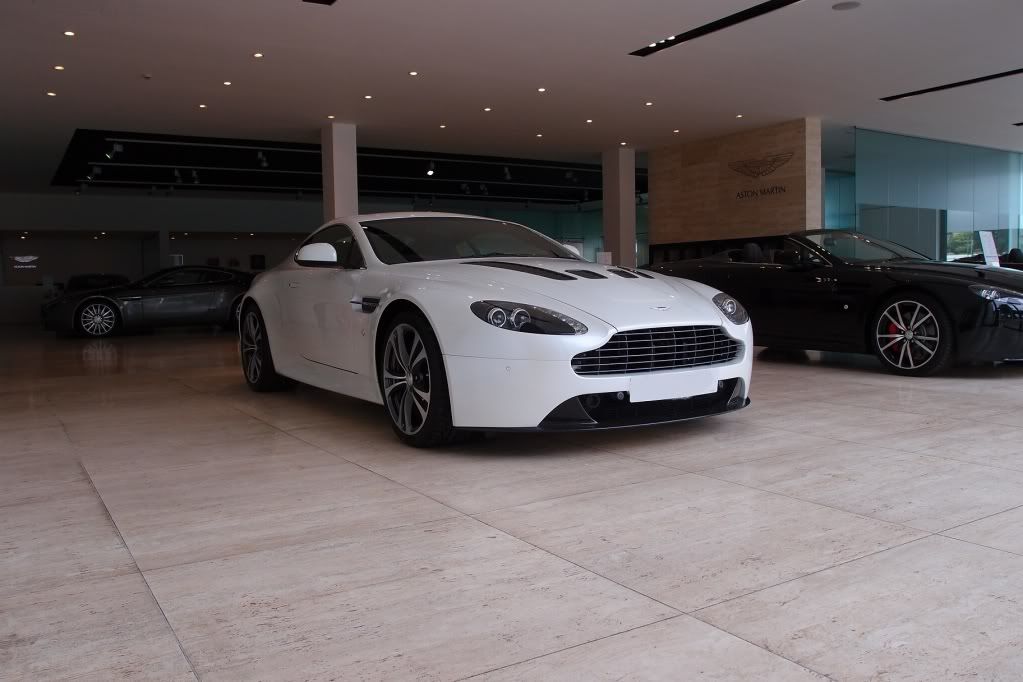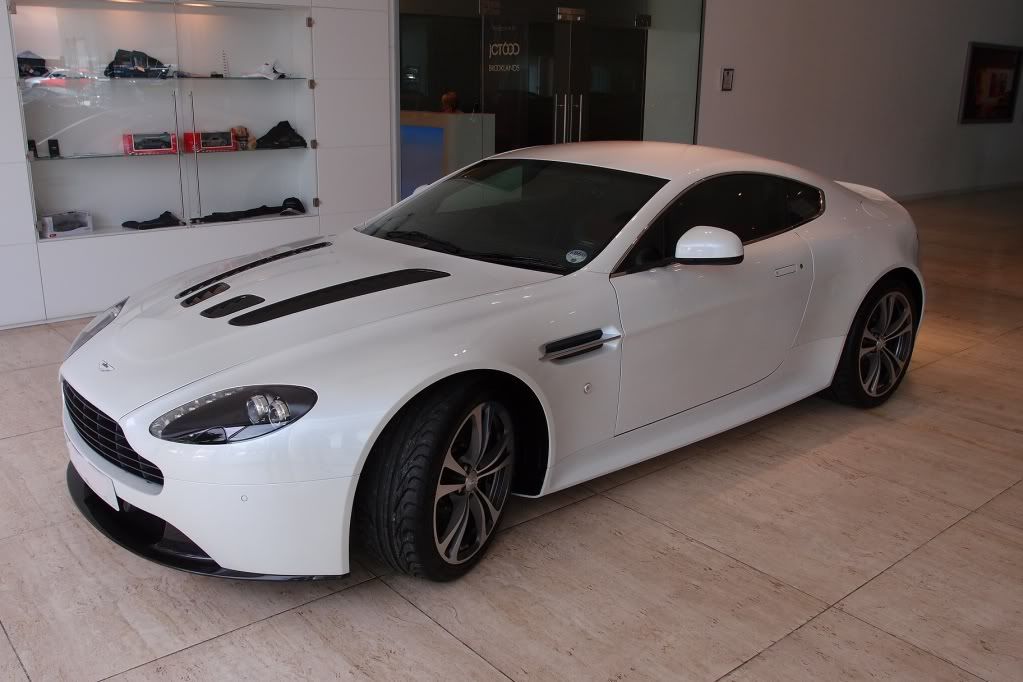 Literally 1 min after we put the car outside the heavens opened, but I still managed to snap a couple of shots of the outgoing Meteroite V12 alongside the incoming Morning Frost V12.